LUXURY PRIVATE CARAVANS FOR HIRE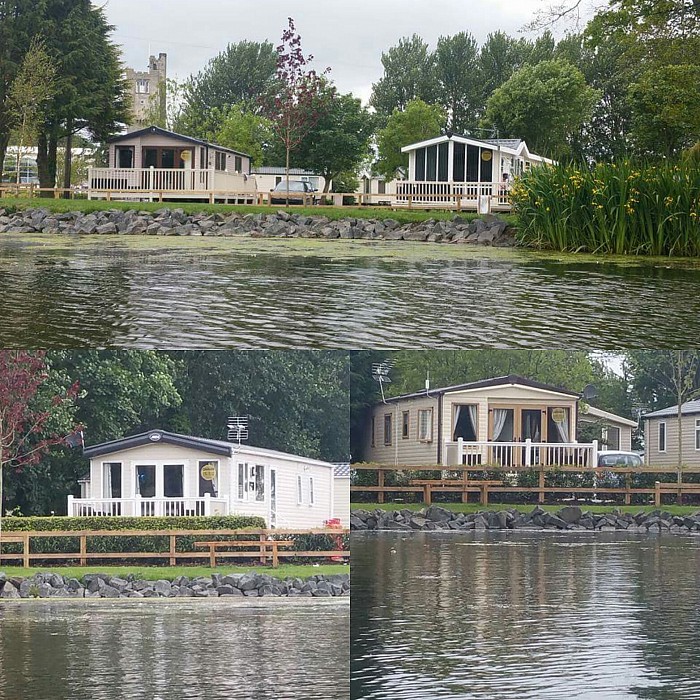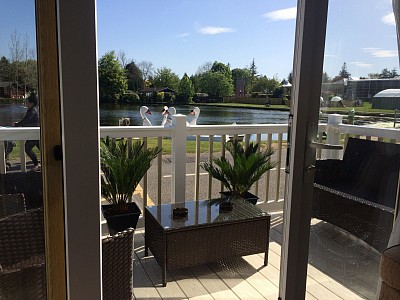 ST DAVID
This is the beautiful St David,
6 berth van comprising large double bedroom with fully fitted wardrobes and over head storage, large wall mounted freeview tv & en suite,
2 twin rooms fitted out with over head storage and wardrobes,
shower room & 2nd wc,
open plan living area, full equipped kitchen with all daily accessories, wall mounted flat screen freeview tv complete with xbox 360 and games, Bluetooth music centre so you can connect and listen to all your own favourite music, iron & ironing board,  central heating and double glazing, French doors to front leading out onto private decking area, outdoor seating looking over stunning views of the lake & only 1 minute stroll to main complex and activities.
ALDERLEY
This is the beautiful more modern feel Alderley, with its large living space and open plan dining area and fully equipped kitchen with all daily accessories, iron & ironing board.
plenty natural light making it a nice and bright spacious accommodation, 6 berth comprising of a beautiful and bright large master bedroom with en suite 2 twinn rooms, 2nd wc & shower room.
living room has 50" freeview wall mounted tv fitted with xbox 360 & games and Bluetooth music tower.
double glazing and gas central heating front French doors leading out to private decking area with outdoor seating looking over the stunning views of the lake & only a stones throw away from main complex and activities.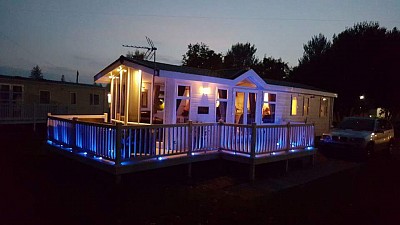 MILANO
This is the stunning 6 berth Milano,
this features floor to ceiling full glass front not only letting natural light flooding through but letting you enjoy those stunning views over the lake whatever the weather.
The massive open plan living area features: free standing leather furniture, large wall mounted tv with xbox 360 and games, Bluetooth music tower, beautifully decorated you wouldn't believe you are in a caravan. Kitchen is fully equipped with all daily accessories beautifully designed with a breakfast bar and stools.
this is a 3 bedroom van 1 double & 2 twinn rooms,  2 wc's and shower room, double glazing and gas central heating will keep you cozy even on the coldest nights.
French doors leading out to the massive decking area where you will find not 1 but 2 seating areas hear, this is a stunning van wether you like to sit out and enjoy the views with a coffee on the mornings or a cheeky glass of wine on the evenings, but if you would rather get in the middle of the excitement we are only 1 minute stroll to the main complex and activities.
MOSELLE
  This is our new addition, the Swift Moselle With its combination of modern & traditional design  combine light, airy interiors with the latest domestic styling and can sleep up to 8 people. 6 berth
Lounge and dining areas are stylish and inviting with designer soft furnishings, Vibrant colours and a large openplan kitchen dinning area thats fully equiped for all dailey uses.
living room area boasts fully fitted corner sofa, large wall mounted freeview tv with xbox 360 installed and games, mp3 music station so you can connect and listen to your very own favourite music.
French doors leading out to the wrap around private decking area with outdoor seating so you can sit back and enjoy stunning views over the lake.
Master bedroom comprises flat screen dvd tv,fully fitted overhead storage, full corner dressing table, fitted wardrobes and en-suite.
Twinn room's comprise larger twin beds, over head storage and fitted wardrobes.
Even on those chilly nights you will feel nice and cosy as this is fitted with full double glazing and cetral heating, Or if you want to call out to the entertainment area this is sited only 1 minute stroll to main complex.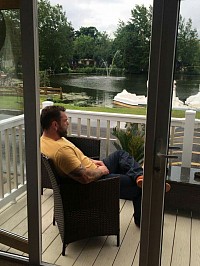 Sit back and enjoy
Hire dates are either 3 4 or 7 nights,
Starting from either Monday or Friday
Longer Stays are avialable on request
Check in time 2pm
Check out time 10am
All bed linen is provided.
Please note! Park Passes are not included! these can be purchased on your arival from park reception
Payment terms & Conditions
09/03/2016
Static Caravan Hire – Terms & Conditions
Please don't book for parties of young people, as they will be refused access to the caravan, which can be upsetting for everyone concerned.
DEPOSITS & PAYMENT
1. A booking will be accepted by the caravan owners, subject to receiving a £50 deposit within 1 working day, this deposit can be paid by bank transfer or PayPal.
Upon receiving deposit, you'll receive confirmation for the dates that you have now booked. Please note that ALL bookings are agreed once deposit is paid. (Deposits are non-refundable)
2. THE BALANCE OF THE HIRE CHARGE IS DUE SIX WEEKS (UNLESS AGREED WITH OWNER)  PRIOR TO ARRIVAL ALONG WITH A £100 BREAKAGE BOND, if the balance is NOT received within this time frame, then the caravan owners reserve the right to hire the caravan to someone else. Bookings taken with less than SIX weeks remaining can only be accepted if payment is made in full and received within 5 working days unless agreed with caravan owner.
3. This breakage bond is fully refundable at the end of the hire period and returned within seven days of departure date once caravan has been checked. The caravan owners reserve the right to withhold some or the entire bond and /or bill the hirer for the additional cost of: a) replacing and/or repairing all damage b) all breakages c) charge for cleaning the caravan or removing stains or replacing as new. ALL BREAKAGES, DAMAGE AND STAINS WITHIN THE CARAVAN MUST BE PAID FOR UNLESS AGREED WITH CARAVAN OWNER!!
THE HIRER MUST INFORM THE CARAVAN OWNERS WITHIN 12HRS OF ARRIVAL OF ALL DEFECTS, INVENTORY SHORTAGES AND/ OR BREAKAGES. FAILURE TO DO SO WILL RESULT IN YOU, THE HIRER BEING RESPONSIBLE.
CANCELLATIONS
4. In the event of a cancellation, the hirer must confirm this in writing. No deposits will be refunded.
5. No refund will be made to the hirer whose hiring has commenced and who vacates the caravan for any reason including any emergency on or off the park.
6. Once the balance has been paid refunds will only be considered in certain circumstances at the owner's discretion and subject to the time remaining to the holiday and a replacement booking being obtained.
UPON COMMENCEMENT OF HIRE
7. The holiday caravan maybe occupied from 3pm onwards on the first day of hiring.
8. In the case of a maintenance problem, the hirer shall contact the caravan owner.
D.I.Y repairs must NOT be attempted. If the hirer does any D.I.Y repairs, then bonds may be refused
9. No pets are allowed. Any pets allowed in caravan will result in bonds been refused.
10. Smoking is NOT permitted in the caravan any sign of smoking will mean the loss of bond.
11. The caravan is to be left in a clean and tidy condition all dishes are to be washed and any waste is to be removed from caravan, inspection will be made once caravans are vacated. Failure of this could result in the loss of bond.
12. Holiday park owners and their staff do not accept liability for any loss or damage to the hirer's property and/ or accidents, injuries, illness, diseases, arising from the hire of the caravan or use of the holiday park, including acts of god or extreme weather conditions.
13. The holiday caravan MUST be vacated by 10am on the last day of hiring. Ready for cleaner to check over.
IF YOU ARE ASKED TO VACATE THE CARAVAN / HOLIDAY PARK BY THE HOLIDAY PARK OWNERS OR THEIR STAFF FOR ANY REASON WHAT SO EVER, THE CARAVAN OWNERS SHALL NOT REFUND ANY MONEY PAID.
Please note government guidelines are in place regards covid rules